To get your FREE design consultation, please fill out the following form or
Experience the Last Honest Shutter Difference
As the top-rated shutter manufacturer in the West, we hold ourselves to a higher standard. From sustainably sourced materials and over-engineered designs to a lifetime warranty and factory-direct prices, Elizabeth Shutters offers customers the honest best.


Plastic material has a high R, or insulation value, but it sags over time. So, plastic shutters are built with wide gaps between moving pieces to keep them from rubbing as they droop. Air moves through these gaps and reduces insulation. On the other hand, basswood shutters are light and rigid, avoiding most or all the sagging seen in PVC and Polyurethane shutters. Elizabeth Shutters' products have some of the tightest tolerances and best insulation in the window-coverings industry.
From no-shows, bad advice, and delays to unexpected fees, shoddy work, and leaving a mess, home improvement contracting is full of horror stories. It's hard to trust anyone with a one-time project in your home, much less if they're new or their reputation with customers is mixed. Elizabeth Shutters employs some of the most capable and dedicated professionals in the window-coverings industry. Installers and technical personnel's average tenure with Elizabeth Shutters is nearly 16 years, and salespeople average over 12 years with Elizabeth Shutters and 20–25 years in the industry. Our experience and professionalism have made Elizabeth Shutters the highest-rated shutter manufacturer in California and one of the best in the world. Elizabeth Shutters' personnel have earned the highest awards for "Best Shutter Company" and "Best Window Coverings Company" from Angie's List, TrustLink, Customer Lobby, The Los Angeles Times, San Diego Union Tribune, and Orange County Register nearly every year for the past ten years. In addition to our D-52 contractors' license, contractors' bond, and workers' compensation insurance, we carry $2 million general liability insurance.
Discount companies' shutters usually come from Mexico or China and take weeks or months to arrive. If there's a problem, the cycle starts over. Elizabeth Shutters manufactures shutters and doors in Colton, California. We guarantee custom deliveries in Northern California and, under normal conditions, proudly offer our industry-best, 28-working-day delivery in Southern California. Depending on availability, California rush orders may be delivered in as little as three to five days.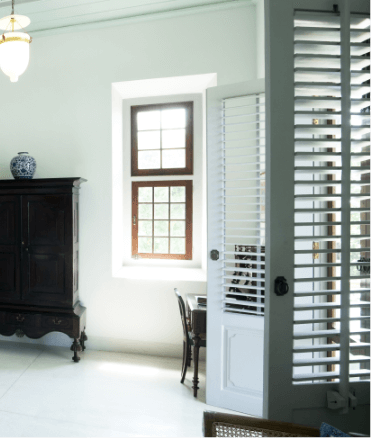 I am so grateful I found Elizabeth Shutters. The shutters throughout my home are absolutely beautiful, and I really appreciated the team's willingness to work with me on even the smallest requests. Highly recommend their services.


See more